Captain
Mathias Andreas Reiter
E-mail: info@ichnusacharter.it
Mathias Andreas, born in 1963 under the sign of Sagittarius, has been passionate about sailing since childhood. He is experienced and watchful navigator, who keeps calm even with strong gale. He is a qualified captain, chartered in the 1st category of Italian seamen register and is a member of Italian Naval Association. The sea of Sardinia is his home. Graduated with honours, he is also a part-time architect.
"I love sharing this enjoyment, I love to inspire the joy of sailing in my co-sailors and to introduce them into the secrets of life at sea. Onboard Ichnusa anybody can learn sailing theory and practice and participate in sailing maneuvers if the weather conditions allow".
Mathias naturally loves socializing. His good communication skills are also due to years of stage performing as music and theater artist and as radio DJ. He is a cheerful, adventurous, sporty, caring and helpful person who doesn't say no to occasional nightlife. A life on vacation, where sea and wind command, without schedule nor long-term projects. Isn't the world of sailing an ideal place for it?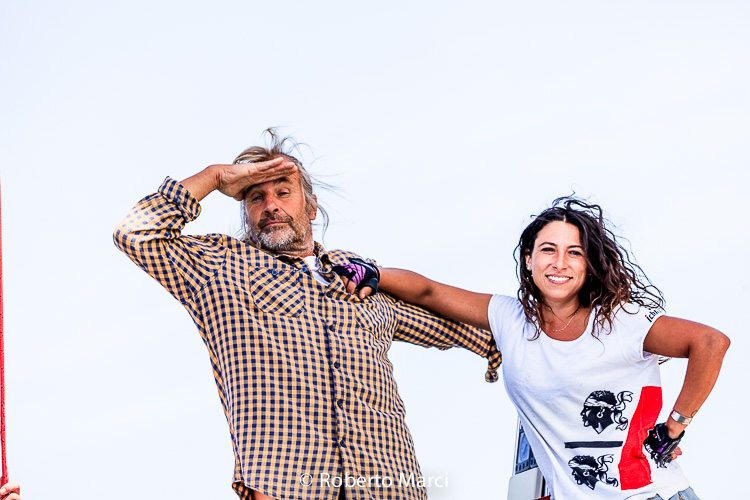 The Sailor
Cecilia Rovelli, born under the sign of Sagittarius in 1982, she is the right hand of the Commander, a sportswoman and lover of the sea who always lived in the world of sailing and diving. Boarding booklet as 1st class Sailor, Divemaster Instructor ESA – Instructor Nitrox – Expert guide of cave registered in the Register of Guides of Sardinia as a freelancer and Instructor of First Aid Land and Sea, she already sailed on several sailing ships, with long oceanic and Mediterranean navigation, as well as being a passionate olimpic and offshore racer. Cecilia is an honorary member of Salute Donna and has been part of the Sail for Women organization. Having worked in restaurants all over Italy and in various galleys, Cecilia is an expert cook with an eye for detail, able to prepare sumptuous dishes making navigation even more tasty. Solar and cheerful, a great travel companion both in the experience of navigation and in safety, in moments of leisure she's able to make group giving joy and lightness to everybody on board while cruising.